I'm talking about male rape to encourage other victims of sexual abuse to do the same
Turning my experience into something positive
I'm a man and I was raped.
A year ago, I was an ordinary 22-year-old who had just moved to Manchester with my girlfriend to pursue my dream of becoming a professional DJ. But everything changed one night. My best mate had come to visit for my first big night out in the city. At the end of the night, though, we got separated. I'd lost my phone in the club earlier, so I waited for him on the street where I got chatting to a group of blokes, as you do when you're a bit drunk at 4am.
When my friend didn't show, the men invited me to go for another drink with them, and I thought 'why not?'. I'd done it hundreds of times back home in Newark. It was a spur of the moment thing. I was drunk and, at the time, it seemed like no big deal to go for one more drink, then head home.
I didn't immediately realise the building we'd gone to was a hotel. I guess I just thought we were heading to the bar, but seven or eight of us ended up in a hotel room. Slowly, people drifted off until it was just me and two other guys. I was about to go home, thinking my girlfriend would be worrying about me by now. But the men persuaded me to stay for another.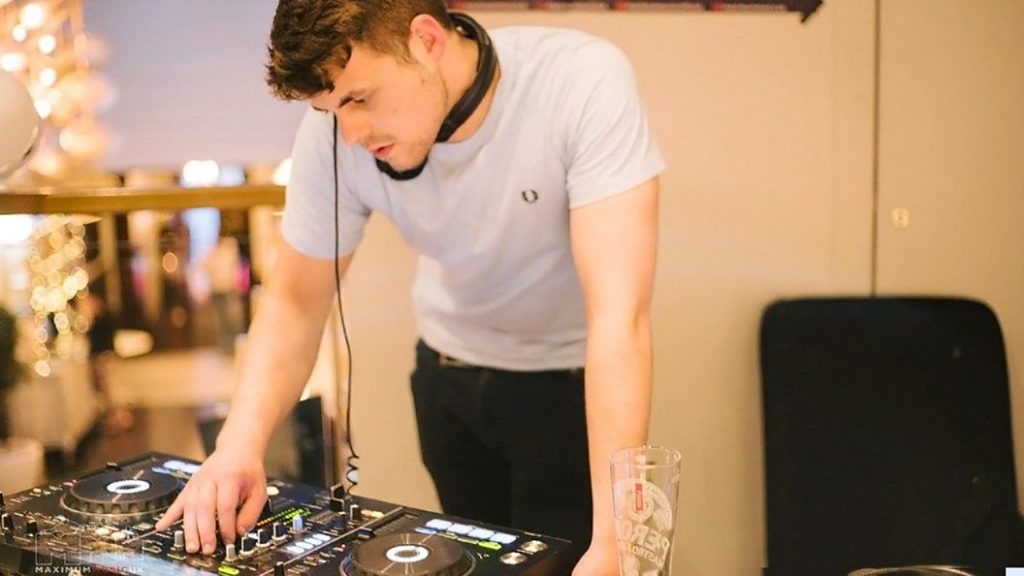 I don't know for sure if that drink was spiked, but after that everything went hazy. Not so hazy that I don't remember what happened next though: those two men took it in it turns to rape me. They took off my jeans and I didn't fight back. Many people have asked me why. The whole thing is a blur. All I remember is just trying to block out that it was even happening. When you're being attacked, your body makes the decision between fight, flight or freeze. I froze. The next thing I remember was waking up, leaving the hotel and walking home. It was about 8am. I didn't even notice if the men were still there.
"When you're being attacked, your body makes the decision between fight, flight or freeze. I froze.
I was on autopilot. I even stopped at the cash machine to get my rent money out. It wasn't until I was crossing the bridge by my flat that it hit me. I knew my girlfriend and my mate would be waiting for me at home, wondering where I'd been all night. I felt a sudden urge to throw myself off that bridge. 'If I end it now, I won't have to tell anyone what happened,' I thought.
Somehow, I kept walking. As soon as I opened the front door, I started crying and couldn't stop. I told my girlfriend and friend everything. They were shocked and confused. They couldn't understand how this could have happened to me. We sat on the sofa and my girlfriend called my mum and put her on loudspeaker.
Mum calmed everyone down and said I had to report what had happened. But male rape is not something that's often reported. According to the most recent government statistics, 75,000 men are estimated to be victims of sexual assault or attempted assault each year, with 9,000 men estimated to be victims of rape or attempted rape. However, the same statistics show that fewer than 3,000 offences of male rape or sexual assault were reported to the police in the year the data was collected. This is why BBC Three has made a documentary on the subject, called Male Rape: Breaking the Silence.
I felt dirty and ashamed but my mum persuaded me I should go to the police immediately. So we all went. My girlfriend and best mate both came with me. At the station I was taken to a room alone and asked things like, 'had I ever cheated on my girlfriend?', and, 'had I ever had a gay experience before?'.
I felt like they didn't believe me. I described the few things I could remember, and the police used that to find me on CCTV. I still wasn't allowed to wash or change clothes until I was taken to the Sexual Assault Referral Centre later that evening, where I was internally examined, had blood tests and was given HIV medication.
At midnight, I was finally allowed to shower that smell off me. That night I went to stay with my parents back in Newark. I didn't leave the house for weeks. If people came over, I'd just turn the TV up, using it to block out everything else. Either my mum or my dad had to stay with me at all times or I'd freak out, smashing up furniture and crying. I found myself just sitting down in the shower for hours, trying to wash everything away.
"I thought if I filled up my days and avoided thinking about the rape, I could move on. It didn't work. I ended up physically and mentally exhausted just trying to pretend I had a normal life.
After a month, I went back to Manchester and began trying to restart my life. I got a job as a recruitment consultant and DJ'd at the weekends. I thought if I filled up my days and avoided thinking about the rape, I could move on. It didn't work. I ended up physically and mentally exhausted just trying to pretend I had a normal life.
My relationship suffered. I forced myself to have sex, but the truth was that even kissing someone was difficult. Sadly, about two months later, my girlfriend and I broke up.
A few weeks after that, I found out that two men had been arrested in relation to my case. But the case was dropped. The police called one morning while I was brushing my teeth and told me there would be no further actions against the men. They said it was because – as in so many cases – it was hard to prove whether or not I had consented to what had happened.
I was so angry I snapped my toothbrush in half. Knowing those men were still out there was the worst thing about it. One morning on the way to work, I broke down and found myself sobbing in the car. I called my mum and told her I wanted to die. Like many men, I'd thought I didn't need anyone else's help. I saw getting therapy as a sign of weakness. But she persuaded me to get counselling.
One of the specialist police officers had mentioned a charity called Survivors that helped male rape victims. I got in touch with them, and they provided a counsellor for me. With my family's support, I began to finally deal with what had happened. Soon after beginning counselling, I went to Manchester Shopping Centre and bought a pair of trainers on my own. Before, that would have terrified me.
I've decided to try to turn this experience into something positive. I'm talking about it because I want men to be less afraid to speak out if they're victims, too.
Survivors Manchester uses my story to help train police officers, so they know how to deal with victims sensitively. Every time I tell my story, it helps remove the stigma of male rape a bit more. Being raped doesn't make you any less of a man. Hopefully all rape victims, male and female, will be encouraged to report what happened to them, because at the moment so many don't. Next year I'm hoping to go to university to study law so that maybe one day I can help change that.
Detective Chief Inspector Chris Mossop from Greater Manchester Police, said: "We welcome the work carried out by Mr Thompson to raise awareness of male rape and I would like to take this opportunity to thank him for it. He has shown immense bravery in coming forward and telling his story. Greater Manchester Police are always looking at ways of improving our service. We work very closely with organisations such as Survivors Manchester to support victims of rape and sexual assault, and ensure our officers are appropriately trained to be able to effectively respond to this type of crime."
For help and support with the issues raised in Sam's story, contact the organisations listed on the BBC Action line.
Originally appeared https://www.bbc.co.uk/bbcthree/article/f78ad097-77d7-4ec0-8014-54ace0fc4b11